Want an easier way to invest in property?
BrickX is an award-winning platform that provides a simple and low cost way to access the property market.
It's the new, easier way to invest in property.
Diversify your SMSF or Trust portfolio with BrickX
Learn More
How it works
A Brick represents a fraction of a property
Choose your property, or use Smart Invest
Buy Bricks
Earn net rental income per Brick
Sell your Bricks to earn any capital returns
Learn How it Works
Consider whether investing in Bricks is right for you by reading the PDS
BrickX Properties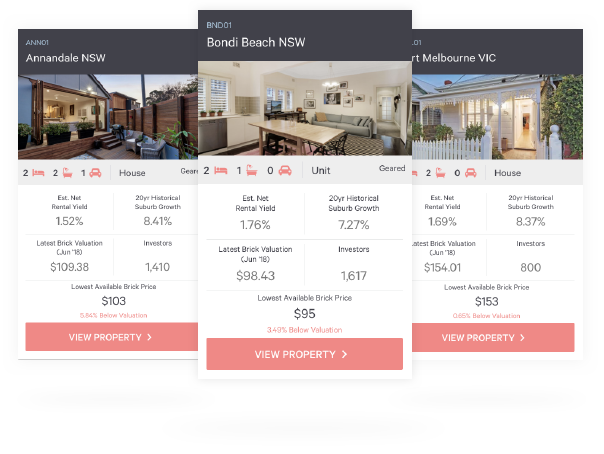 Choose which property to buy Bricks in (or use Smart Invest). Our range of properties is carefully selected by our specialist Property Team based on growth potential.
Property details include:
Historical suburb growth
Independent property valuations
Forecasted cash flows
Estimated net rental income and yield
Why Choose BrickX?
Simplicity
Select your property and within minutes you can own Bricks in an investment property.
Finally - Access to Property Market
Feeling locked out of the property market? With Bricks from under $50, now there's an affordable way to invest.
Property team expertise
Properties are hand-picked by our property team.Learn More
BrickX is a wholly owned subsidiary of Thundering Herd.
About Thundering Herd
Thundering Herd is a Venture Capital & Private Equity Investment firm that has developed its own proprietary technology platform to facilitate the identification, assessment, lead investment and syndication of unique investment opportunities in companies ranging from early stage start-ups to private companies and exchange traded companies. Thundering Herd is a lead investor that also facilitates an exclusive network of qualified investors to sub-syndicate into transactions it identifies. Some Investors within the Thundering Herd network choose to have Thundering Herd manage their funds alongside its own in a Funds Management and Trustee capacity.