Want an easier way to invest in residential property?
BrickX is an award-winning platform that provides a simple and low cost way to access the property market.
It's the new, easier way to invest in residential property.
right_cornerleft_corner
hourglass_fullhourglass_empty
Read about property and investing and keep up to date with BrickX!
News Centre
Diversify your SMSF portfolio with BrickX
Learn more
How it works
A Brick represents a fraction of a property
Choose your property, or use Smart Invest
Buy Bricks
Earn net rental income per Brick
Sell your Bricks to earn any capital returns
Learn How it Works
Consider whether investing in Bricks is right for you by reading the PDS
BrickX Properties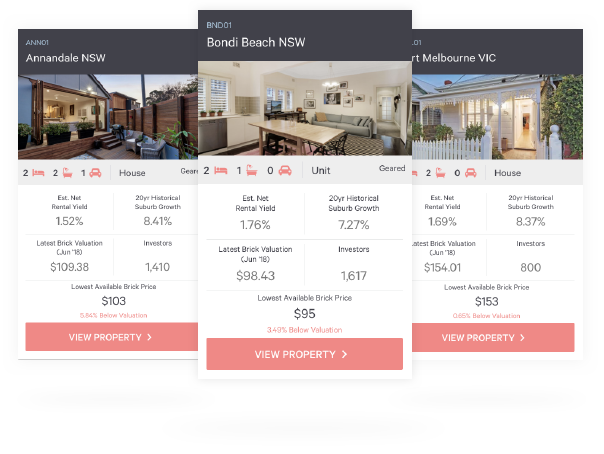 Choose which property to buy Bricks in (or use Smart Invest). Our range of properties is carefully selected by our specialist Property Team based on growth potential.
Property details include:
Historical suburb growth
Independent property valuations
Forecasted cash flows
Estimated net rental income and yield
Why Choose BrickX?
Simplicity
Select your property and within minutes you can own Bricks in an investment property.
Finally - Access to Residential Property
Feeling locked out of the property market? With Bricks from under $50, now there's an affordable way to invest.
Property team expertise
Properties are hand-picked by our property team, using their 113 years of combined experience. Learn More
What our members are saying about us!
What about the fees?
0.5%
transaction fee
when you buy and sell Bricks
No funds under management fees
No performance or contribution fees
No service or withdrawal fees
BrickX has a simple fee structure.
Whether you hold your Bricks for 2 months or 2 years, you'll only ever pay 0.5% of the transaction value each time you buy and sell.
There are monthly expenses associated with each property, fully disclosed on the property details page. Learn more about Fees
Who backs BrickX?
NAB Ventures, Westpac-backed venture capital firm, Reinventure and BridgeLane have all invested in BrickX business.